Spring winds are with us in Silver City and the weather is lovely. Beauty abounds at Light Art Space with the installation of "Beauty Where You Find It: an exhibition to honor the recipients of the Denis Roussel Awards."  The hand-made photographic prints, made utilizing 19th and 20th-century techniques, by 20 artists from England, Spain, and across the United States, provide the viewer with a unique in-person art experience. Reception this Friday 5 pm – 7 pm.
Light will now be open on Sundays from 10 am – 3 pm
Join us in Silver City for  First Friday Gallery Walks!
The reception is this Friday from 5 pm -7 pm
---
Call For Work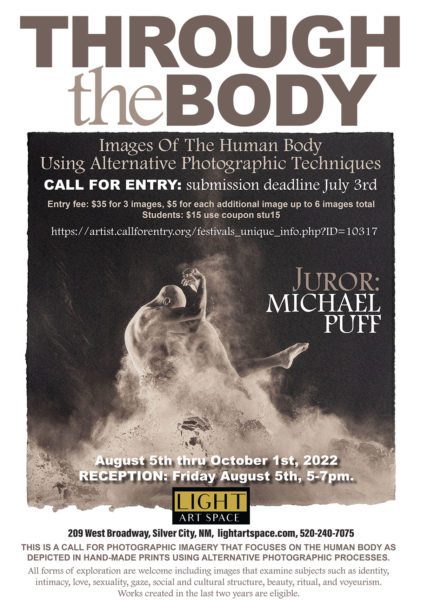 The deadline to submit is July 3rd
submit at: https://artist.callforentry.org/festivals_unique_info.php?ID=10317
---
Workshops
Photopolymer Gravure with Karen Hymer.
At Sitka Center For Art and Ecology in Otis, Oregon.
June 14, 15, and 16
There are still a  few spots left – this is a stunning venue in the woods on the coast of Oregon.
https://www.sitkacenter.org/workshop/workshopslist
Platinum/Palladium Printing with Michael Puff
at Light Art Space
Saturday, August 6th, and Sunday, August 7th, 2022

In this two-day workshop, students will learn to create beautifully luminous handmade prints utilizing the Na2 Platinum/Palladium process with digital negatives.
https://lightartspace.com/product/platinum-palladium-printing-with-michael-puff-august-6th-7th-2022/

Michael Puff
Thank you to our sponsor,
Hahnemühle USA
---
Flash in the morning light