Sidewalk Sale this Saturday, April 24th 11 – 5
Featuring Florals by Joel Armstrong. 
Original Drawings, canvas prints, pillow and jewelry. Starting at $35.


Weekend at the Galleries and
Gila Monster Fundraiser
The Silver City Art Association (SCAA) is hosting the annual RED DOT Weekend at the Galleries on October 9 – 10, 2020, in accordance with community safety measures. The self-guided walking tour of Historic Downtown will invite local residents to browse and buy affordable art unique to Silver City, meet local artists, and enjoy music, food, and demonstrations while wearing masks and practicing social distancing.
A special feature of the event will be a silent auction of 22 one-of-a-kind, "Gila Monsters" created by artists to support the projects of the SCAA and promote the organization's mission of advancing the arts in Silver City and Grant County.  Galleries will be open Friday, Oct. 9 and Saturday, Oct. 10 from 11-5pm.  Gila Monsters can be viewed at several galleries prior to the event, and brochures listing participating galleries are available at Soul River Gallery and Light Art Space.
Guests can place their silent auction bids at participating galleries before the event and are invited to secure their final bids at the SCAA booth at the Maker's Market, Main Street Plaza from 8:30 – 3:00 on October 10. Silent bidding ends at 3:00 pm, and successful bidders will be notified immediately to pay for and pick up their "monster" at that time, or other arrangements can be made.
A 10% donation from the fundraising proceeds will be awarded to the Gila Conservation Coalition.
Come back soon as we add more images of the Gila monsters created by our local artists!
 All monsters will be available for viewing at various galleries through October 9th. They will be bidding together at the Maker's Market on October 10 from 8:30 – 3:00 for final viewing.
STUDIO TOUR GALA!
FRIDAY, MAY 3, 5-8 PM
Light Art Space will, for the second year, produce the Studio Tour Gala located at, 209 W Broadway Street, downtown Silver City.  To help you decide what studios to visit, there will be an example of artwork by each participating Tour artist at the Gala. These artworks will be on exhibit at Light Art Space all weekend. In addition, images of art by participating Studio Artists will be continuously projected on a THE WALL OF WONDER during the Gala giving art lovers an even more comprehensive idea of the variety of art to be seen at the studios.
The Studio Tour and Gala are free — enjoy art while dining on fabulous finger food, beverages (wine or non-alcoholic punch).
The $49.95 Silent Auction
Back by popular demand! Get details at the Gala.
Look for RED DOT directional signs with arrows that will guide you to studios around town and in outlying areas.
Crafting Art: Explorations in Mixed Media
This exciting Pop-up exhibition features the work of Jamie Anne Karolich, Lara Leavitt, Art Peterson, Mimi Peterson, Gary Szajer and Susan Szajer. Each artist presents the viewer with a variety of materials and artistic concerns presented in dynamic visual forms.
March 7 – 17th, 2019.  Reception Friday, March 8th 5 – 8pm
Dead Art: An Analog Approach to a Digital World
In this challenging exhibition four young photographic artists grapple with identity by picturing bold body-scapes using analog photographic techniques. This not to miss exhibit will confront and engage the viewer in surprising ways.
March 23 – April 28th.
Reception Saturday March 23, 5 – 8pm: Walk and Talk with the artists at 6pm.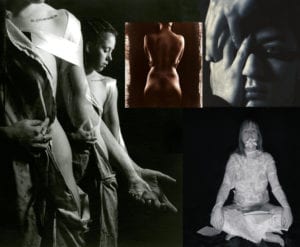 Clotheslines: A Wire Based Art Installation by Joel Armstrong
Clotheslines is an experience, not just a piece to be viewed, and the entire gallery becomes a canvas. The work references memories, feelings and expressions surrounding ideas of home and family. Time and space are integral to the work with lighting and sound also playing a part.
Exhibition Dates: March 23 – April 28th.  
Reception Saturday March 23, 5 – 8pm: Walk and Talk with the artists at 6pm.
Past Events
Age & Seduction Exhibition Reception
Saturday, September 1st, 2018
5pm – 8pm
Age & Seduction Exhibition
August 31st – to October 2018
Light Art Gallery
Photogravure demonstration
October 7th 2018
11am – 3pm