A Personal Williamsburg


Book signing and discussion 
Dale Taylor
Join us for a book signing and discussion with photographer, Dale Taylor. His newly released coffee table book, "A Personal Williamsburg", is a full-color personal portfolio of the restored colonial town in which he worked and lived.
Saturday, October 22, 2022 3pm – 5pm
---
https://lightartspace.com/workshops-classes/
STUDIO TOUR GALA!
FRIDAY, MAY 3, 5-8 PM
Light Art Space will, for the second year, produce the Studio Tour Gala located at, 209 W Broadway Street, downtown Silver City.  To help you decide what studios to visit, there will be an example of artwork by each participating Tour artist at the Gala. These artworks will be on exhibit at Light Art Space all weekend. In addition, images of art by participating Studio Artists will be continuously projected on a THE WALL OF WONDER during the Gala giving art lovers an even more comprehensive idea of the variety of art to be seen at the studios.
The Studio Tour and Gala are free — enjoy art while dining on fabulous finger food, beverages (wine or non-alcoholic punch).
The $49.95 Silent Auction
Back by popular demand! Get details at the Gala.
Look for RED DOT directional signs with arrows that will guide you to studios around town and in outlying areas.
Crafting Art: Explorations in Mixed Media
This exciting Pop-up exhibition features the work of Jamie Anne Karolich, Lara Leavitt, Art Peterson, Mimi Peterson, Gary Szajer and Susan Szajer. Each artist presents the viewer with a variety of materials and artistic concerns presented in dynamic visual forms.
March 7 – 17th, 2019.  Reception Friday, March 8th 5 – 8pm
Dead Art: An Analog Approach to a Digital World
In this challenging exhibition four young photographic artists grapple with identity by picturing bold body-scapes using analog photographic techniques. This not to miss exhibit will confront and engage the viewer in surprising ways.
March 23 – April 28th.
Reception Saturday March 23, 5 – 8pm: Walk and Talk with the artists at 6pm.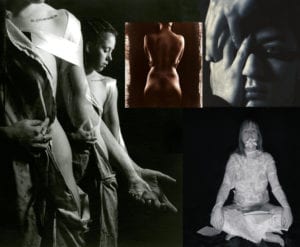 Clotheslines: A Wire Based Art Installation by Joel Armstrong
Clotheslines is an experience, not just a piece to be viewed, and the entire gallery becomes a canvas. The work references memories, feelings and expressions surrounding ideas of home and family. Time and space are integral to the work with lighting and sound also playing a part.
Exhibition Dates: March 23 – April 28th.  
Reception Saturday March 23, 5 – 8pm: Walk and Talk with the artists at 6pm.
Past Events
Age & Seduction Exhibition Reception
Saturday, September 1st, 2018
5pm – 8pm
Age & Seduction Exhibition
August 31st – to October 2018
Light Art Gallery
Photogravure demonstration
October 7th 2018
11am – 3pm