Facing Forward call for work:  Deadline  September 13th, in 4 days!  Seeking hand-made prints and photographs by all self-identified women of color (Latina, Asian, Indigenous, etc) Juror Satpreet Kahlon, more on Satpreet: www.satpreetkahlon.com
To submit:
https://artist.callforentry.org/festivals_unique_info.php?ID=8028
GALLERY ART WALK AND FUNDRAISER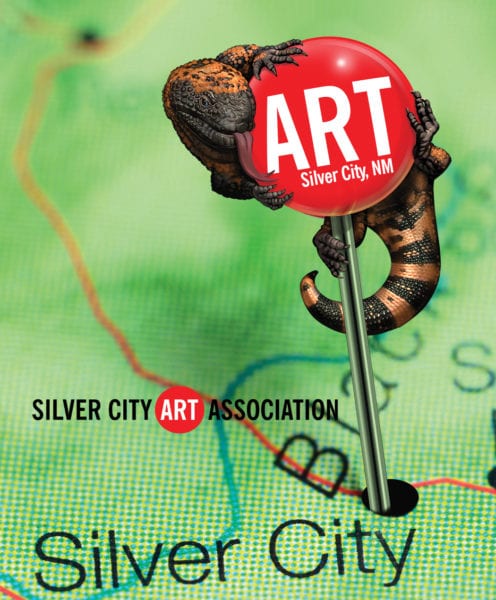 Silver City Art Association RED DOT Weekend at the Galleries and Gila Monster fundraiser. The Silver City Art Association (SCAA) will host the annual RED DOT Weekend at the Galleries, October 9th &10th, 2020, in accordance with community safety measures.
The self-guided walking tour of Historic Downtown will invite local residents to browse and buy affordable art unique to Silver City, meet local artists, and enjoy music, food, and demonstrations while wearing masks and practicing social distancing.
A special feature of the event will be a silent auction of 22 one-of-a-kind, "Gila Monsters" created by artists to support the projects of the SCAA and promote the organization's mission of advancing the arts in Silver City and Grant County.  The monsters were made with a 3D printer at our local makers space, The Future Forge, and then turned into works of art by local artists. The monsters are on display in 11 galleries were you can bid in person or remotely!
My monster is a cyanotype photogram made from
Unryu kozo/chiri Japanese paper with Ethiopian Welo yellow opal eyes.
See more monsters and information at:
https://www.silvercityart.com/gila-monster-fundraiser
Yoga and other Moving Arts comes to Light Art Space!
I am pleased to announce a new partnership between LAS and the Lotus Center in Silver City.
Beginning September 14th, the Lotus Center will offer in-person classes in the garden at LAS. I am so excited to share the garden with those seeking stress relief and inner-peace.
For more information visit: https://lotuscentersc.org/outside-classes/

New fall and winter hours:
Thursday – Saturday 11am – 5pm and by appointment.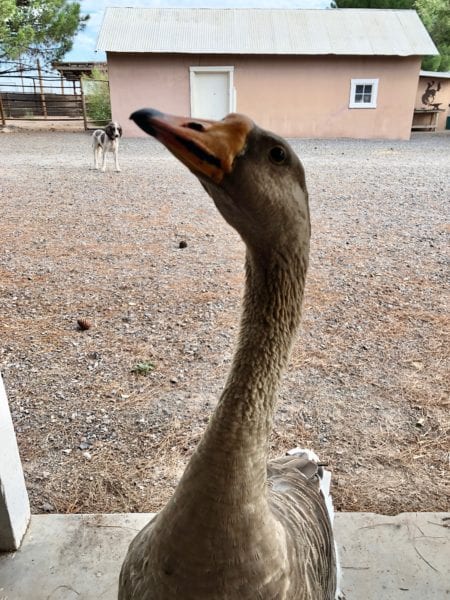 Flash encounters Lucy the Goose in Rodeo, NM.